And here's my mini post on Singapore. One thing I have to say is that I FUCKING LOVE SINGAPORE! XD It's such a beautiful country and the closest place to Japan I have ever been. Cheap branded Asian items at practically every corner like a Starbucks! I highly recommend anyone visiting here. Take note that while Asian products are affordable, American stuff are NOT. But if you are living in the Americas like I am, why would you bother? When you can get them cheaper back home right? We're here for Eastern gifts after all lol
This is all I bought. Tons of Diamond lashes I know lol They were about $18-$20 CAD each and one brown lashes from Eyemazing. The bag I got is from this Korean brand called Lavina? I think it's only sold in Singapore though...
http://www.zalora.sg/lavina/
One Majolica Majorca blush in an orange color, almost the same as the Diamond Beauty series. The spiky headband I got from the same shop that sold the purse, they mainly had Korean fashion. I forgot the name of the store but it's located in Bugis Junction. An area you MUST visit to shop. The ribbon headband I bought at Universal Studios in which I went alone XD How sad but my mom is freaked out by those kind of amusements. I will do reviews on the lashes if anyone would like! I accidentally bought an extra of the same box too so I will be selling them.
All these products can be found at stores called Watsons or Guardian which I highly recommend. Watsons I found is better. Guardian, I read used to have a Haraju-Cute makeup section but when I went to like 10 different branches of that store they have none so... I think they got rid of it -.-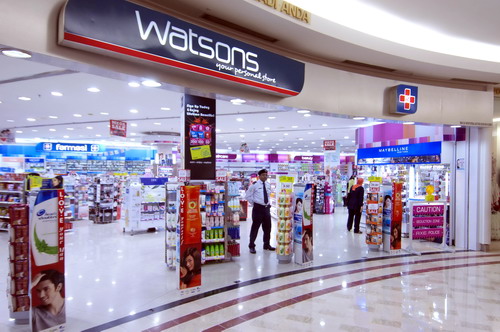 A Japanese department store called Takashimaya is also good to shop at! So many good food places there too
We managed to come to Singapore on their national celebration day and there was a lot of water shows, fireworks and marching troops in front of Marina Bay Sands. Beautiful view and hotel grounds. It's also a big mall inside that resembles Las Vegas property malls.
Thanks for reading guys and hope I put in some useful info for if you're ever in Singapore. Believe me they're big on their Japanese fashions so you won't have trouble searching for it at all x) Even in Bugis Junction they have some anime, J-rock fashion stores.
I'll be trying to get more reviews up soon of those makeup items and contact lenses I bought! Thanks once again!